Women have been making significant strides in the construction industry for many years, and Women in Construction Week serves as a celebration of these achievements. Since its inception in 1998, this annual event has been promoting and celebrating the contributions of women in construction. In its 25th year, the event's theme "Many Paths, One Mission" highlights the different journeys that women have taken to reach the common goal of strengthening and amplifying the success of women in the construction industry.
At Schimenti, we recognize and champion the importance of gender diversity and inclusivity in the construction industry. We value the contributions of women and celebrate their accomplishments. During Women in Construction Week™, we highlighted some of the remarkable women on our team. Our celebration included JoAnn Marano, Sara Gutierrez, Allison Ziminsky, Daviana Estrella, Kori Schneider, and Victoria Augustyn, each bringing a unique perspective on what it means to be a woman in construction.
"Construction has been male dominated since the beginning of time. After 30+ years, I'm encouraged to see female construction professionals having greater visibility on projects. We are respected and recognized for our contributions, not as just "the girl in the office." We have a way to go, but our acceptance within the industry will encourage future generations of females to consider the many opportunities in construction as viable careers."

JoAnn Marano
Senior Project Coordinator

"Women working in a male-dominated industry are empowered to be confident and forthright, whether in the field or the office. The finish line on any construction project cannot be crossed until everyone's piece is placed into the puzzle together to make something beautiful. There is no limit to what we can accomplish when we all work together."

Sara Gutierrez
Project Accountant

"Every day, I see women in this industry collaborate, support, and praise one another's work. It's exactly the type of business environment I want to be in. There's the opportunity for women in construction to grow, pursue training, better themselves, and be valued for their contributions. That's been my experience, and I feel fortunate."

Allison Ziminsky
Human Resources Coordinator

"Being a woman in construction, we are starting to see massive changes in the industry, for the better, with new opportunities daily. It's fantastic to be part of incredible projects with a team who respects women and values our opinion."

Daviana Estrella
Project Coordinator

"It's bringing awareness to everyone of how far we've come. More women have achieved major roles and opportunities in the construction field now more than ever. Being acknowledged for our hard work and enjoyment of that work is rewarding, and who doesn't thrive on a feeling of accomplishment? I know I do."

Kori Schneider
Assistant Project Manager

"Women in the construction industry can feel empowered by being a part of a group of trailblazers who are breaking down barriers and changing the face of the industry. By demonstrating their skills and expertise, women can help to change perceptions and create a more inclusive workplace culture."

Victoria Augustyn
Assistant Project Manager
Women in Construction week also coincides with International Women's Day, a global holiday that celebrates the social, economic, cultural, and political achievements of women. As part of our commitment to upholding gender equality standards, we reflected on our practices and challenged gender stereotypes, discrimination, and bias in our New York, Connecticut, and California offices. We gathered as teams to display our support with signs echoing messages such as "we will celebrate women's achievements" and "we will challenge gender stereotypes, discrimination, and bias."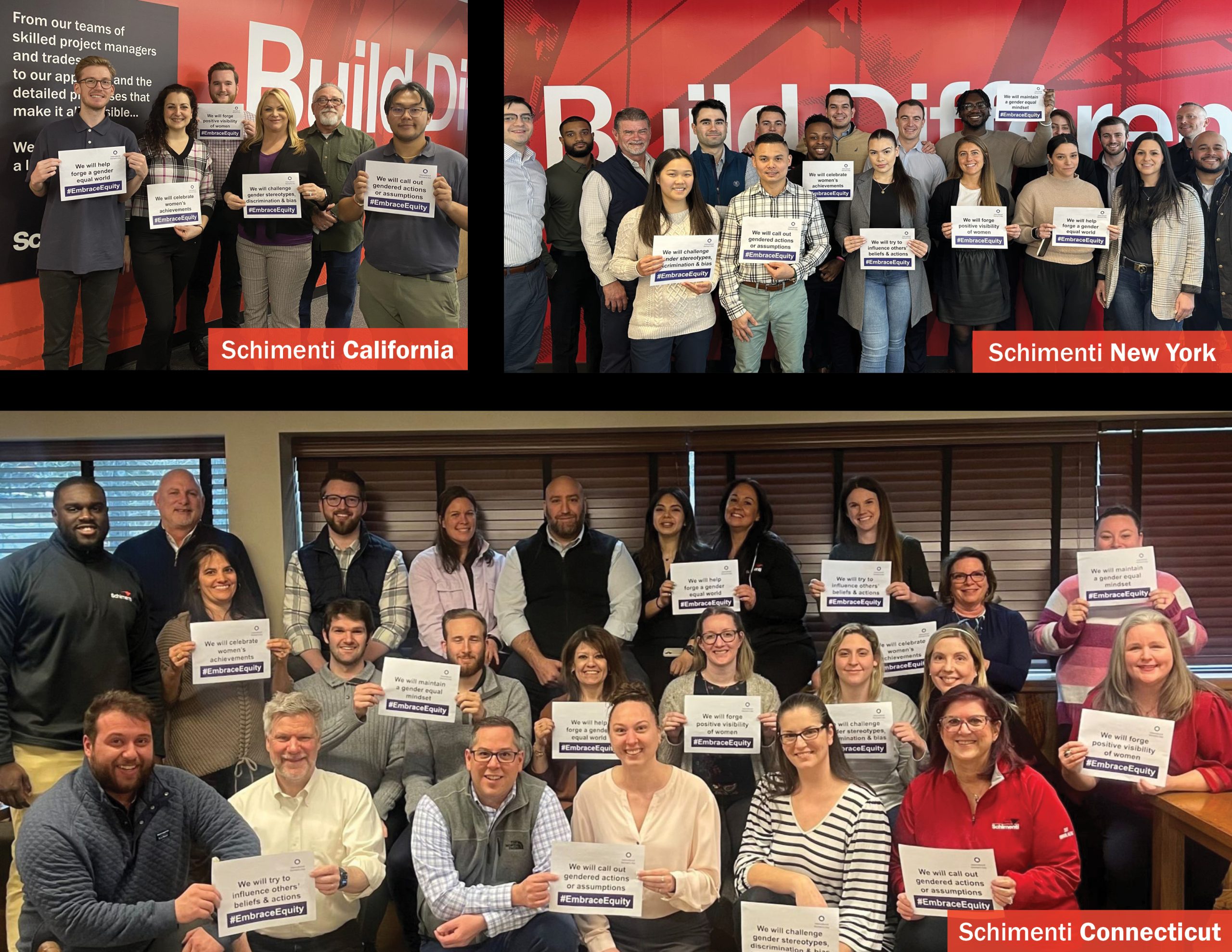 At Schimenti, our workforce proudly comprises over 20% women, double the industry average of 10.9%. We are continuously growing our ranks and remain dedicated to fostering a positive workplace environment filled with respect, equality, and inclusion.
As we conclude another successful Women in Construction Week, we remain steadfast in our pursuit of tackling gender disparity in the construction industry and beyond. We extend our thanks and congratulations to the National Association of Women in Construction (NAWIC) for another successful year, and to all who participated and contributed.